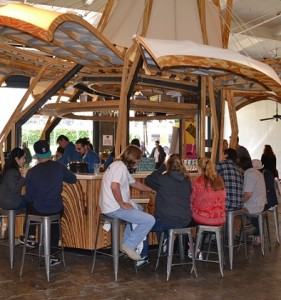 Christophe Happillon shares his love of Seafood through the Oyster Gourmet.
Oysters are a religion for Christophe but he also serves other shell fish and seafood delicacies.
In his Oyster Bar, Christophe is presenting oysters like a sommelier would present a fine wine to create a dynamic fusion between terroir and meroir : "a sense of the sea".
This enhances the customers\' experience in discovering the secrets of an incredible delicacy.
DTLA OYSTER FESTIVAL ON OCTOBER 24 & 25
This special culinary pop-up will bring together oyster farmers from across the country for a celebration of all-things-oyster at Grand Central Market.
The weekend will also include a series of free, hands-on Oyster Shucking 101 workshops led by Happillon, who will personally teach 10 people at a time how to shuck and serve oysters on the half-shell. Pre-registration for these workshops can be found on EventBrite.
Christophe has been featured in :
Press and Media

Imagine having Christophe and the Oyster Gourmet Seafood Bar at your next Party ! Always a huge hit, Christophe\'s knowledge, personality and genuine love for Oysters and Seafood bring the party to the next level.
If you would like to inquire about having The Oyster Gourmet at your next party, please contact us directly at 310-570-0682. We would be happy to work with you to treat your guests to a memorable evening!
Christophe Happillon
The Oyster Gourmet
Master Ecailler in Los Angeles